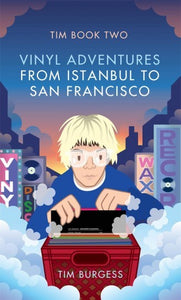 Tim Book Two: Vinyl Adventures from Istanbul to San Francisco by Tim Burgess
In 2012, Tim Burgess of the Charlatans published his hugely successful and critically acclaimed memoir, Telling Stories. Tim really enjoyed his new role as an author, and so here it is: Tim Book Two - a tale of Tim's lifelong passion for records, the shops that sell them, and the people who make them.

In some ways, the biggest events in Tim's life happened in the couple of years after he had finished writing his first book rather than in the forty years before. So he had more to say, but instead of another autobiography he chose a different way of telling the story. Tim set himself a quest. He would get in touch with people he admired, and ask them to suggest an album for him to track down on his travels, giving an insight into what makes them tick. It would also offer a chance to see how record shops were faring in the digital age - one in which vinyl was still a much-treasured format.

Tim assembled his cast of characters, from Iggy Pop to Johnny Marr, David Lynch to Cosey Fanni Tutti. Texts, phone calls, emails and handwritten notes went out. Here is the tender, funny and surprising story of what came back.