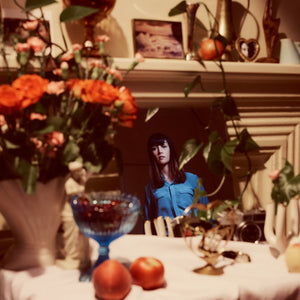 OPPONO7LP
Release Date: 2 March 2018
Amaya's work blends the swirling contours of the Cocteau Twins with the wistful melodies of The Go-Betweens and the sonic depth of Yo La Tengo. Within this rich palette of sound resides Amaya's uniquely captivating voice, restrained yet beautiful, with rich breathy tones offering touching moments of yearning and lament. 
Amaya began work on Rituals in 2015 while residing in Berlin. During this period, she also spent time performing live and completed a solo tour of venues throughout Spain. 
She returned to Australia in 2016, where she formed the band behind Rituals, featuring Andrew Keese (a singer/songwriter and composer in his own right, on guitar), Hugo Cran (from Beggars Banquet alumnus The Devastations on drums) and Giles Fielke (previously of Lowtide on bass). The record was produced by John Lee at Phaedra Studios and mastered by David Walker at Stepford Mastering. 
The first single from the album, "More Than This", was accompanied by a stunning video directed by Geoffrey O'Connor, featuring the dancer Oge Ogemdi which was premiered via Gold Flake Paint. The second single, "All Of Our Time", is a gorgeously melodic ballad that manages to be wistful, introspective and uplifting all at once. It examines the strengths and weaknesses of a long-term relationship and was debuted by The Line of Best Fit. 
Over the course of two EPs, three albums and countless live shows Amaya Laucirica has established a unique presence in the Australian musical landscape.

Rituals is a personal and intimate album dealing with themes of time, frustration, acceptance, loss and love. Musically, it is a richly complex and layered album that, although intricate and sometimes dense, also contains sparse moments of quiet transcendence and space. Rituals marks a major artistic statement and is the perfect demonstration of her talent for her first international release. 
- Bandcamp