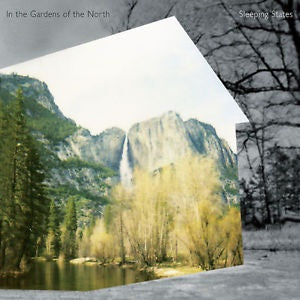 BELLAV210
Release Date: 17 August 2009
Sleeping States, the musical project of Bristol, UK-based Markland Starkie, has been boldly evolving and flowering since 2004. Markland's transient, ever-moving nature is revealed in his musical style and progression. An upbringing learning various musical instruments and classical theories fused with the DIY punk, experimental-noise ethos that hit Markland as he hit university, is the true source of Sleeping States. Always at the heart of this experimentation and exploration was an altruistic regard for good melodies, minimal arrangement and strong voice.
Spurned on by the energy of labels such as K Records in the US and Slampt in the UK, Markland self-released his debut CD Distances are Great in 2004. Soon after in 2005 came another release on his own 'Kontra Punkte' label: the Sleeping States Cassette. This fell in to the lap and on to the stereo of Tome Records and sealed the fate of the first Sleeping States 7" single: 'Rivers' / 'London Fields', released in 2006. This single propelled Sleeping States in to an altogether busier world of supportive blogs and lauding press. It was around this time that Sleeping States expanded in to a full live band with drums and extra guitars. 2007 saw another 7" released on the exquisitely cool UK singles label, Caspian, and then Tome proudly released the debut album 'There the Open Spaces' in UK & Europe with MISRA releasing in the US and Etch n Sketch taking care of Australia & NZ.
It made perfect sense for Markland (an ardent Cocteau Twins fan) and Sleeping States to sign with leading edge UK indie label Bella Union (owned and operated by Cocteau Twins member, Simon Raymonde) positioning Sleeping States firmly alongside heralding label mates such as Fleet Foxes, Beach House, Abe Vigoda and Wavves. In 2008 Bella Union released the Sleeping States 10" EP, Old vs New, a reworking of some older songs in a newer context that accurately represented the full-band workings of Sleeping States. The digital release of this EP accelerated the presence of Sleeping States worldwide.
The themes of dislocation that feature so strongly on There the Open Spaces, after Markland left home for London (where he resided for several years), were compounded by another move in the summer of 2008, this time to Bristol. It was here that Markland recruited the talents of drummer Rose Clark (Thanksgiving / Adrian Orange) and promptly decamped to her house in the woods outside Bristol to record a new album over the winter and spring of 2009.