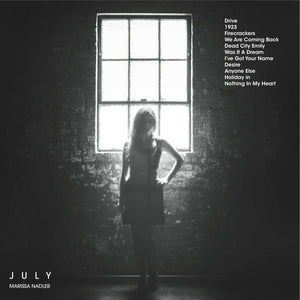 BELLACD432
Release Date: 10 February 2014
Nadler lays the listener – and herself – on the line with 'July', her sixth full-length album in nearly a decade. Set for release on February 10th, it floats freely in the pop cosmos somewhere between gauzy shoegaze, unvarnished folk, and perhaps even a hint of metal's doom-and-gloom spirit.
Recorded at Seattle's Avast Studio, the album pairs Nadler for the first time with producer Randall Dunn (Earth, Sunn O))), Wolves in the Throne Room). Dunn matches Nadler's darkness by creating a multi-coloured sonic palette that infuses new dimensions into her songs. Eyvand Kang's strings, Steve Moore's synths and Phil Wandscher's guitar lines escalate the whole affair to a panoramic level of beautiful, eerie wonder. The results are astonishing and occasionally reminiscent of David Lynch (who is, appropriately enough, among her label mates on Sacred Bones). As Pitchfork once wrote, her songs are "as gorgeous as they are elliptical and intriguing."
Her voice, too, is something to behold here, at once clarion but heavy with the kind of tear-stained emotion you hear on scratchy old country records by the likes of Tammy Wynette and Sammi Smith. Long gone are the days when Nadler summoned images of 1960s folk singers who got lost in the woods. She is a cosmic force on "July," shooting these songs to euphoric highs and heartbreaking lows.