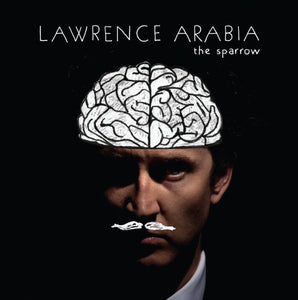 BELLACD349
Release Date: 6 July 2012
New Zealand songwriter / producer Lawrence Arabia returns with The Sparrow, the follow up to the critically-acclaimed and award-winning Chant Darling. Venturing away from the harmony-laden, classic pop production of that release, The Sparrow is a more measured and minimalist work, drawing particularly on the influence of the symphonic late-sixties work of Scott Walker and Serge Gainsbourg.
While various ominous words like 'mature' and 'serious' come to mind, there are still strong traces of the witty pop songwriting that defined the first two Arabia albums. "Travelling Shoes" is a recollection of a young man (not unlike the young James Milne) defining himself against the prevailing culture of his provincial upbringing. "The 03″ muses on the same character's possible shameful return to that same setting having gone out into the world to achieve his dreams, and failed…
The material for The Sparrow was accumulated throughout 2010, while Lawrence and his band The Prime Ministers toured in support of Chant Darling. Images like the "crude moustache, exposed brains" seen on a poster of Zac Efron in the New York subway, the jaded conversation with the Tom Tom on a rainy British motorway, the last breaths of a London house party that dragged on just a little too long, were collected throughout the year as context-free scribbles in a diary, waiting for songs to attach themselves to.
These images found homes during a fairly frenzied period of writing in borrowed lounge rooms and rehearsal spaces at the end of another abject London summer. During the same period, the enigmatic title 'The Sparrow' surfaced and became some kind of mysterious guiding image for the aesthetic of the album, the angst of the inexorably approaching thirties, represented in the form of a small, malevolent bird… God knows why.
In late 2011, with Elroy Finn and Connan Mockasin, Lawrence recorded the basic tracks for these new songs, live, at a large house in Surrey that became known as the Japanese Academy. Strings and horn overdubs were added in a couple of sessions at Auckland's Roundhead Studios. The Sparrow was produced and mixed by Lawrence Arabia.