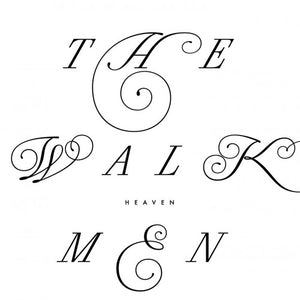 BELLACD340
Release date: 29 May 2012
 
A record with the power to grab your heart, like an ex-lover you just can't shake off.


How you feel about listening to the sound of a band "maturing" is inextricably tied up with whether or not you believe that rock'n'roll is at its best when the preserve of the snarling, chaotic and hungry young.


The Walkmen have been around for over a decade now – so youth isn't quite on their side these days. But so lauded are they that the quintet could release a cloud of smoke and it would receive gushing reviews from a cluster of critics. But the New Yorkers' seventh studio effort is a glossy record that will speak to more important people than writers with established preconceptions – and it may well speak to them quite profoundly.


There are some wonderful moments for sure: The Love You Love, to pick one immediate highlight, is a doozie. As vocalist Hamilton Leithauser wails, "Baby it's the love you love – not me," the hairs on the back of your neck stand up. It's a thrilling three minutes in the mould of The Walkmen circa 2002, reminding the listener of those dog days when the band, and all the rest of us too, were a lot younger.


That classic Walkmen aesthetic is also tenable on the album's seductive title track. Here, the production skills of Phil Ek – who helped to make Built to Spill and Modest Mouse into something much greater than the sum of their parts – are evident, as tightly wound guitars blend with a taut, beauteous rhythm section.


However, as The Walkmen's youthful braggadocio fades, certain pipe-and-slippers moments mar proceedings. The vocals-led stop-start antics of No One Ever Sleeps, Dreamboat and Southern Heart are self-indulgent, dull and messy. All is not lost, though: the compelling 1960s doo-wop jangles of Heartbreaker and the sultry, impassioned plea of Nightingales put things back on the straight and narrow.


There has to come a point in life where writing a film script or a novel begins to better express your feelings about the world than writing a song. But The Walkmen haven't quite reached that point yet, as Heaven is a record with the power to grab your heart, like an ex-lover you just can't shake off – no matter how many years you've been without them.
- BBC Review