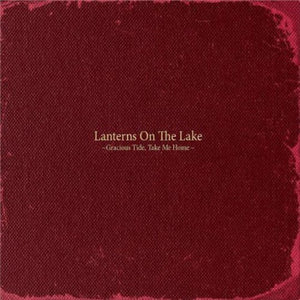 BELLACD300
Release Date: 19 September 2011
Newcastle sextet Lanterns on the Lake have been quietly honing their sweeping, cinematic songs for a few years now, emerging with a debut LP refreshingly out of step with any current musical trends. The 11 songs that comprise Gracious Tide, Take Me Home source inspiration from the likes of Sigur Rós and Low; they unfurl slowly and deliberately, awash in melancholy and of a keen, natural beauty.
Hazel Wilde and Adam Sykes handle vocal duties, the latter's deep Geordie burr complementing Wilde's feathery, plaintive tones. The two combine wonderfully on If I've Been Unkind, against a tapestry of swooning strings, guitar, glockenspiel and synth of the kind that forms the backdrop to most of the songs here. "I sailed the seas; you were never even there" they intone – a line that sums up the direct lyrical approach and preoccupation with the elements felt throughout the record.
Ships in the Rain is one of the highlights here, Wilde taking on the voice of a doomed sailor over a spectral wall of backing vocals; equally effective is ode to friendship I Love You, Sleepyhead, subtle for its first few minutes before mournful strokes of Sarah Kemp's violin haul it into a rousing finale. Opening song Lungs Quicken furnishes Lanterns' sound with skittering beats and an insistent, circular glockenspiel shape, while A Kingdom ups the tempo considerably – a sweet, graceful pop song where the violin dances nimbly around interweaving guitar lines. Not to slight the record too much – for it is genuinely gorgeous and played with admirable conviction – but a few more steps in this direction might have given it a welcome jolt, leavening the generally sorrowful tone a little.
Yet that sadness is inseparable from the band's aesthetic, and going on this and its two preceding EPs (where many of these songs originated), they're only going to get better at fashioning it into delicate yet sometimes muscular music. Gracious Tide, Take Me Home is a luminous, lilting, lovely debut album, and a perfect mood piece as the nights begin to draw in.
- James Skinner, BBC Review (2011)