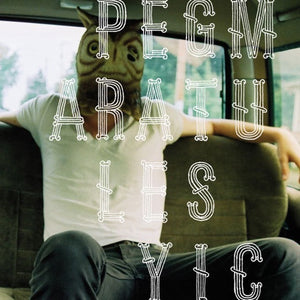 BELLACD236
Release Date: 12 May 2010
"After nearly a decade of trying to be a decent, hard-working proletariat," says Zach Tillman, "I've taken up permanent residency on Deadbeat Street.  And what better way to spend time there than home recording?"
Deadbeat? Not on this evidence. The solo album named after his intriguing alias Pearly Gate Music might tap the backporch/frontroom vein of human endeavour but the provenance of its lo-fi sonic crackle and arrangements is much less recognisable. It's haunting, mysterious, elusive. Exactly what kind of neighbourhood is Deadbeat Street, Seattle?
Listening to Pearly Gate Music is like descending the rabbit warren. You don't know where it will lead. The same as with music recommendations – one leads to another, and to another. In this case, Simon Raymonde at Bella Union first heard of Fleet Foxes, which introduced him to Josh Tillman, the band's drummer turned solo artist, which then led to Josh's younger brother Zach.
The recordings, he says, "turned out like a quilt – even though I don't know the first thing about quilting." This explains how the mood so quickly alters for the summery, happysad strumming of 'Big Escape'?  Later on, 'I Woke Up' swells, mid-track, from sombre acoustic picking to a boosted colours and voices, just as a chilling 'Gossamer Hair' mutates from tender ballad to a wracked splurge of energy, as Zach chokes up "Oh god, I'm an animal / don't tell anyone you saw the state I'm in / I've got a reputation to uphold."
Asked what he writes his songs about, Zach has a direct response: "ex-girlfriends." Well, that's enough to drive anyone to distraction. The album's stark standout 'I Was A River' resembles some haunted confessional as Zach imagines how he might still connect with his love if he was, in fact, a river, a railcard or a lapdog. It's would have made for a great Roy Orbison cover. After the '70s bar-room looseness of 'Bad Nostalgia', the closing 'Rejoice' is nearly six minutes of unfathomable storytelling, from, "solemn and sacred lamb, set out at sunset," to, "a house made of hewn bone," as the musicians create a barren prairie in their studio.
Proof, then, that Deadbeat Street is clearly a great place to hang and what a singular talent Zach Tillman is. Come through them pearly gates, you have everything to gain…