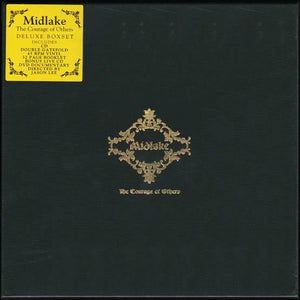 BELLACD224SP
Release Date: 1 February 2010
Deluxe boxset includes:
CD album
Double gatefold 45RPM vinyl (180 gram)
32 page booklet
Bonus live CD
DVD documentary
Imagine the Romantic poets mourning climate change to a 1970s folk-rock soundtrack and you won't be far from The Courage of Others. The third album from Texan quintet Midlake, it trembles with awe of sublime nature and sorrow for its destruction. Apparently this theme is unintentional – "I don't have any message to save the earth," frontman Tim Smith told an interviewer last year – but it's inescapable, explicit in Smith's lyrics and implicit in the richly textured but earnest music. Rooted in the minor key, the songs tangle argumentative guitars with portentous mutterings of prog-influenced flute. Aside from Children of the Grounds, with its sumptuous multi-layered vocal and sweeping rhythms, the album has none of the gentleness and accessibility of its predecessor, 2006's The Trials of Van Occupanther. The more you bury yourself in it, the more Smith seems to shun you, incanting again and again a desire for solitude and escape from the wrongs of humankind.
- Maddy Costa, The Guardian (2010)