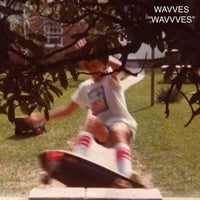 BELLACD205
Release date: 3 February 2009
Wavves is the one-man noise-pop project of 22-year-old San Diegan Nathan Williams. Since his homemade cassettes and mpfree turbulence started damaging ears last year, Williams has become the focal point of what reads and feels like a maelstrom of chatter. Once something of a left-field mystery, the hype around him has built steadily throughout this young year. Now with drummer and a press photo, Williams has probably played about as many shows as he has songs to be heard. A spate of recent outings in New York a few weeks back had the scene in such a tizzy, The New York Times sent a dispatch to bear witness. And, just a few days later, to capitalize on the swell, his new label expedited the digital release of Wavvves , his second full-length in just four months.
Without delving too deeply into the muck of Williams' proper (and purely self-titled) debut LP, Wavves , it's worth noting that each of his twin long-players share more than just a menu of goths, weeeeeeed, demons, breakers, and vintage skate photography. While his second is the marginally less abrasive, more realized of the two efforts, both feature the same roach-encrusted punk pop. Be it in the opening power chords of "Beach Demon" or "To the Dregs", there's a couple of fried amps' worth of trusted guitar tropes and distortion-- tricks borrowed from the Wipers and Sonic Youth-- enveloping Williams' carbonated choruses. The vocal hooks themselves come fast, usually propelled by titanic drumbeats nicked from 1960s girl group music. It's not immediate--- and hardly the "pop" record that some have characterized it as-- but deep in the froth of highlight "No Hope Kids" lurks more than just a thick dose of teenaged ennui or even volume. There's thrilling evidence of compelling, thoughtful craftsmanship as well.
Wavves' no-fi bent has been compared to No Age's. But while those guys tend to reach far outside of their own feedback for spaces more expansive, Wavves' music feels more insular, self-contained, and unsettling. These aren't shouts from a house party, but from a solitary bedroom. And Wavvves ' outbursts are often tempered and sandwiched between clipped electronics (opener "Rainbow Everywhere" and "Goth Girls") or experimental noise ("Killer Punx, Scary Demons") that help congeal the album as a whole.
As the hubbub surrounding his music and name game began to gather serious cybersteam over the past few months, the San Diego native wisely moved his signature from small-time imprint De Stijl, to the bigger, much more historically distinct Fat Possum. Business measures and consonant gimmicks aside, the hop down South makes perfect aesthetic sense-- this young man is most certainly singing the blues. Hopeless stoner/loner incantations are scattered throughout, though two of the album's most bulletproof moments are also it's most deliciously bleak. Next to the pains of "No Hope Kids" (no car, no friends, no family, no friends, no girl), "So Bored" leaves memorable blisters. It's the record's one slam-dunk earworm, and it's a total bummer. Over three melted chords and his own back-up oooooooh's and aaaaaah's, Williams' moans a mantra that's bled into every track: "I'm sooooo booooored, I'm sooooo boooored." Not for much longer.
- David Bevan, Pitchfork, 2009