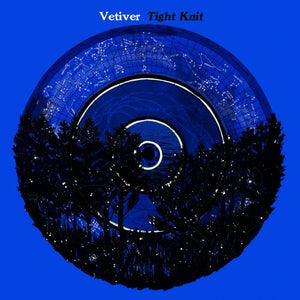 BELLACD194
Release date: 17 February 2009
Recorded in Sacramento and LA, Tight Knit exudes the relaxed good vibes one would expect from Andy Cabic, long-time Devendra Banhart collaborator and leader of Vetiver. Now the world is Fleet Foxes crazy, Vetiver's debut on Bella Union will have more ready listeners for their sweet acoustic sound. What a very good place to come in. 
Pared down and close-mic'd, Tight Knit is warm and open, with subtle layers of sound. The guitar introduction to Rolling Sea references the rustic picking from high-period Mercury label Rod Stewart. It sets the mood perfectly; a cool statement of the album's intent – a road trip down Highway 1 toward Cabic's home in San Francisco. Everyday is Beatlesy pop writ large, from a group once described as performing the songs 'George Harrison would once have written in some sunny country garden'.
Simple riffs and delicate melodies abound. The jolly rockabilly of More Of This, sounds like something that the Everly Brothers could once have released. Strictly Rule is a perfect balance of sweet pop and wigout. Only the looser funk of Another Reason To Go outstays its welcome; but then, even that is redeemed by a muddy horn section and a fine slide guitar.
Tight Knit makes you appreciate simple and direct music, shorn of trimmings and dwelling on melody. Cabic's sweet, tentative vocal tops it off a treat. The album closes with At Forest Edge, which is positively dreamy, mazy - a stripped-down summation of everything that has passed previously. And then, Tight Knit slips away. Time to start again.
- Daryl Easlea, BBC Review, 2009