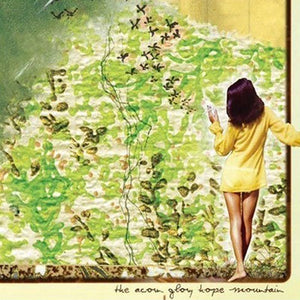 BELLACD180
Release Date: 25 September 2007
What three years ago would have been referred to as 'lo-fi' now gets called folk. Whatever, Ottawa's The Acorn have delivered a meditative little gem filled with piano, acoustic guitars and rolling drums. Rather than burying their music in lush harmonies a la Fleet Foxes it concentrates on the wavering voice of leader Rolf Klausener.
Glory Hope Mountain is ostensibly about Klausener's Honduras-born mother, Gloria Esperanza Montoya. While the album's peaks and troughs are finely judged it can, in its early stages, too often rely on two chord vamping and repetition to achieve its emotional tipping points.
However there is a willingness to experiment charmingly within the context of beardy campus tropes. Listen to the almost Native American drumming circle vibe of Flood, Pt1, or Low Gravity (where it lurches nicely into dissonance and electric mayhem) or the Sufjan Stevens' vulnerability of Glory. Oddly at times it can put one in mind of the less out-there moments of Animal Collective.
It's never less than pleasing, though, like much music produced by such bands recently, it's hard to be entirely passionate about it, until that is, you reach the warbling Plateau Ramble and the rolling Flood, Pt2. You suddenly realise that you're beginning to love this cute little number more than you ever expected to, and that in itself brings you back for more. In the end there's great promise here.
- Chris Jones, BBC Review (2008)