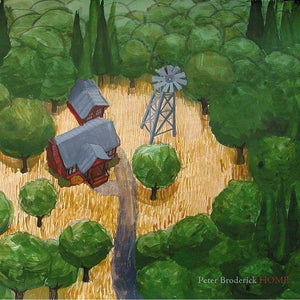 BELLACD172
Release Date: 23 September 2008
Having left his home in Portland, Oregon last year to join the massed ranks of pop experimentalists Efterklang in Denmark, 21-year-old classically trained multi-instrumentalist Peter Broderick has headed even further out into the wide open spaces. With just his clear voice, a guitar, and a few unobtrusive daubs of instrumental colour in the background, on Home Broderick creates a gently hypnotising chain of music that holds together beautifully. There's a bit of José González in here (especially on 'With the Notes in My Ears', though Broderick is less brittle), as well as a pinch of Bon Iver and a smattering of John Taverner, but the drifting melancholy at the album's heart ('When I'm home, I'm not at home') belongs to Broderick alone.
The mood is accentuated by the layered vocals, creeping into otherwise sparse songs like a sea mist sweeping over the shoreline: opener 'Games' is a wordless choral chant, and on much of the rest of the album the vocals travel somewhere beyond the reach of identifiable language. When the music turns genuinely unsettling, as on the haunting 'Sickness, Bury', you realise that Broderick will one day write seriously great film scores. For now, the pictures can be of anything you like.
This is a quietly superb album that places a high price on beauty and yet never fails to pay up.
- Graeme Thomson, The Guardian (2008)