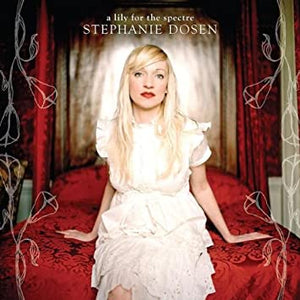 BELLACD137
Release Date: 4 June 2007 
When you hear that an artist grew up on a peacock farm and wrote her first songs for her pet swan and fox then you'd be forgiven for thinking you're on a head on musical collision course to whimsy and tweeness. Stephanie Dosen though, on this astoundingly mature, lush and nuanced album has effortlessly avoided such fly traps.
This is a journey to a land of ghosts, dark basements and feathers. Imagine crossing over the garden of Kate Bush's Georgian country abode, passing Neil Hannon in the tool shed and coming to a rest near Harriet Wheeler (of The Sundays) and Joni Mitchell on a bench overlooking a damp meadow on a freezing winter's morning.
Dosen's chamber string arrangements flutter coyly around her breathy voice which has the capability to handle the sweeping opus of the opening five minute epic ''This Joy'' and also the more countrified steel acoustic twang of ''Only Getting Better''.
Echoes of the subtle menace of The Wicker Man stir on tracks like "Like A Dream" with Dosen doing battle with ethereal ghosts behind locked windows as her lover 'disappears like a flame against the sun' only for the demure wistfulness of lines like 'we'll go sailing when the sun goes down' to return in' 'Way Out'' which captures the knotty daytime dreamscapes more in keeping with Mrs. Dalloway than any particular musical contemporary.
Bella Union's reputation - built on the likes of Midlake, Howling Bells and The Dears - for signing artists whose sophistication and scope always belies their years is only going to soar higher off the back of this album, coming as it does with the album photography by none other than Cat Stevens and production coming from Cocteau Twin Simon Raymonde who perfectly captures the gossamer charm of Dosen's voice.
- Rob Crossan, BBC Review (2008)