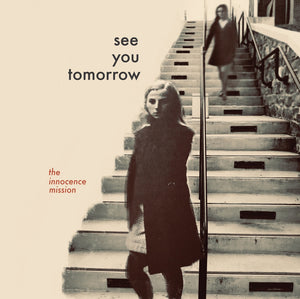 BELLA993V
Release Date: 17 January 2020
Love. Connection. Community. Understanding. Most of us experience these aspects through the prism of family and friends. But not everybody can turn those feelings into song, especially not with the beauty and sensitivity of Pennsylvania trio the innocence mission, fronted by Karen Peris and husband Don. Following their Bella Union album debut Sun On The Square, which won the band some of their best-ever reviews, they have made another exquisite and touching album, See You Tomorrow. A record steeped in awe and wonder, intense longing, sadness and joy; a rich sequence of songs that attempt to describe the essence of what makes us human.
Sufjan Stevens, who has covered the innocence mission's classic 'Lakes Of Canada', once called their music "moving and profound. What is so remarkable about Karen Peris' lyrics is the economy of words, concrete nouns which come to life with melodies that dance around the scale like sea creatures."
The band recorded See You Tomorrow in the Peris' basement (and the dining room where the piano sits). Karen wrote and sang ten of the album's eleven songs, and plays guitars, piano, pump organ, accordion, electric bass, melodica, mellotron, and an old prototype strings sampler keyboard. Don contributes guitars, drums, vocal harmonies, and one lead vocal on his song 'Mary Margaret In Mid-Air'. Fellow founder member Mike Bitts adds upright bass to four songs including 'On Your Side', the album's first single.
"There is a longing there to be transformed and a hopeful expectation that it is possible," he explains. "I find joy, or a similar type of joy, in all of the songs," he concludes. "A humble recognition of challenges and hardships, the acknowledgment and comfort in knowing that they are both personal and universal, and the expression of light and hope" – which is one way of summing up the perfect marriage of melody and words that is See You Tomorrow…