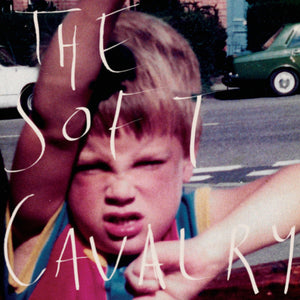 BELLA914CD
Release Date: 5 July 2019
For Steve Clarke, The Soft Cavalry's self-titled debut album is equally a labour of love, and the first record he's masterminded from start to finish, with invaluable contributions from his wife, Slowdive's Rachel Goswell, on co-vocals and spiritual/practical guidance, and Steve's brother Michael, who produced the record.
The band's music is a particularly British brand of intense cinematic drama. Melodic and timeless, the album lands in the atmospheric dimensions between Pink Floyd, Talk Talk and R.E.M. A record radiating midlife crisis but equally enormous elation; a helix of fear and hope, aching for resolution. A record Steve emphasises that he "needed" to make. 
The album is also a way of rewriting a man's narrative, and proof that relative late bloomers (Steve was in his late 30s when he made the album) can make the record of their dreams. 
The Soft Cavalry is equally an exercise in creative and personal therapy. The first songs Steve wrote for the album were less about confusion than paeans to fate, love, new beginnings: 'Passerby' ("Waters break and we are born restlessly into the arms of this unknown"), with Rachel's gorgeous lead vocal underlining the arrangement's Slowdive-adjacent ethereality, and 'Spiders' ("strand of woven thread / Could be the start of something beautiful?"), a starker, shivery ballad with a feeling of suspended animation. But as Steve opened up, the past began to seep in; years of frustration, anxiety and confusion.
If the album has a theme, reckons Steve, "it's recovery versus new doubt. I'm there, in the middle. The word that kept coming back to me was 'resilience'. With the right mentality and people around you, especially family, we get through, and find a level of hope."