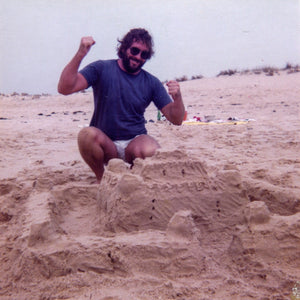 BELLA861CD
Release Date: 12 July 2019
For every sibling band forged in rivalry, many others mount an unassailable genetic argument for keeping the music in the family. The latter is assuredly the case with Penelope Isles. Formed around the chemistry between dual brother-sister songwriters Jack and Lily Wolter, the quartet's expansive DIY mix of translucent dream-pop, fuzz-rock guitars and indie-psych flushes comes lovingly dipped in exquisite harmonies and lustrous melodies: a combination so intuitive, you'd think it was in their blood. 
Crisp and woozy, blissful and biting, Until the Tide Creeps In is an album deepened by shared experience: experiences of, in Jack's words, "leaving home, moving away, dealing with transitions in life and growing up. We are six years apart, so we had a different experience of some of this, but we share a similar inspiration when writing music."
As Jack puts it, nice and succinctly, "It's cool to have two songwriters in the band because I love her songs so much!" Born in Devon and raised on the Isle of Man, the Wolters' bonds were strengthened by separation when Jack moved away to study art at university at 19. As he puts it, wryly, "By the time I moved home Lily was not so much of an annoying younger sister anymore and had grown up and started playing in bands and writing songs. We soon became very close. I had written some songs, so we started a band called Your Gold Teeth. We toured a bit and then Lily left for Brighton to study songwriting. A couple of years later I moved down and we started Penelope Isles together."
Produced by Jack, the album was co-mixed by Iggy B (whose credits include The Duke Spirit, John Grant, Spiritualized and Lost Horizons) in London's Bella Studios with a homegrown aesthetic and live clarity as guiding principles. The Line of Best Fit, DIY and Steve Lamacq (who hosted a recent Isles' gig at SXSW for BBC6 Music) have all championed Isles' bracing live form, where 'Gnarbone' has emerged as a show-stopper. "I wrote that song in a tiny cupboard room when I lived in Cornwall," says Jack, "and it's funny to think how it's grown into such a beast." From close-knit family ties to world stages, Penelope Isles' growth curve is fast becoming a surge.