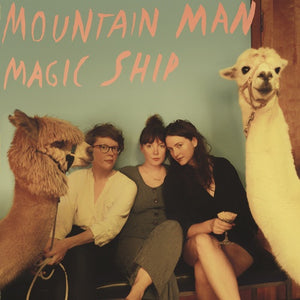 BELLA822CD
Release Date: 21 September 2018
Pitchfork said Mountain Man's beloved 2010 debut, Made the Harbor, "feels like a private performance of friends only out to please themselves. But if you promise to sit quietly and listen, you're more than welcome to stay." The trio had formed shortly before its release, during their Vermont college years. "We all have this secret access to each other's feelings, whether or not we're singing. That is what creates the alchemy when we are singing together," says Sarlé.
The three musicians went in different directions after the Made the Harbor tour: Meath moved to Durham, North Carolina and eventually started Sylvan Esso. Sarlé headed for a Zen center in California. Sauser-Monnig first moved to Minnesota, then to a farm in North Carolina. They eventually all ended up in North Carolina, spending time together as old friends. 
They reunited as a band last summer at the Eaux Claires music festival, on a tiny, cabin-like stage tucked into a forest, in front of an unusually large audience hanging on every note. Meath says, "When the first Eaux Claires happened, I realized it was the perfect place for Mountain Man to play, if Mountain Man was ever going to play again. Cute boys stood in stinging nettles to hear us. So many people cried. And it felt really good, just like it always did."  
Mountain Man reconvened a few months later at Meath's home studio in Durham to begin what would become Magic Ship. Sauser-Monnig explains, "We all got together at Molly's house in the wintertime, on one of the snowy days that rarely happen in North Carolina. We built a fire in the wood stove and shared a handful of songs that felt like they could be right for Mountain Man. It happened really naturally, and all of those songs ended up being on the record." 
"It feels amazing when we sing together, and we wanted to see if that was enough to carry a whole record. Could we just sing these songs and record them and make an album? Once we played these songs for each other, we knew the record was going to be great," agrees Sarlé.