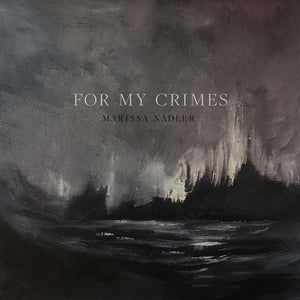 BELLA803CD
Release Date: 28 September 2018
Nadler co-produced For My Crimes with Lawrence Rothman and Justin Raisen at Rothman's Laurel Canyon studio, House of Lux. Bolstering the intimacy of these songs is the strong feminine energy that defined their recording. Between Rothman's fluidity with both gender and genre (as heard on his 2017 album The Book of Law), and Raisen's track record of successful collaborations with strong women (Angel Olsen, Kim Gordon, Charli XCX), Nadler felt empowered to explore without judgement in the studio. With the exception of saxophonist Dana Colley (Morphine), every player on the album is a woman of notable pedigree and distinct style, many of whom have played with Nadler over the years. Cameos include vocals from Angel Olsen, Sharon Van Etten and Kristin Kontrol, Patty Schemel (Hole, Juliette and the Licks) on drums, Mary Lattimore on harp, and the great experimental multi-instrumentalist Janel Leppin on strings.
The opening title track being shared today is classic Nadler: a sweeping, vaguely Southern drama of voices, strings, and acoustic guitar, that walks the fine line between character song and personal indictment by metaphor. "For My Crimes" spawned out of a songwriting exercise in which Nadler wrote from the perspective of someone on death row, but the song casts a dark shadow over an album that turns conflict into inner reflection. Helping Nadler dig down into the song's remorseful soul is her old friend Angel Olsen, who serves as a distraught echo from beyond in the chorus. 
Adding to the album's deeply personal feeling is its abstracted artwork, featuring Nadler's original oil paintings. Though Nadler is a graduate of the Rhode Island School of Design and a semi-retired art teacher (she has one student left—a 95-year-old named Doris), For My Crimes marks the first album cover bearing one of her paintings. She also channelled the album's themes into paintings corresponding to specific tracks, which will be included as prints in the limited edition version of For My Crimes (and in some cases, for sale as originals on Nadler's website).