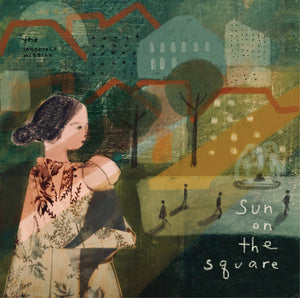 BELLA789CD
Release Date: 6 July 2018
For listeners of the innocence mission, the Lancaster, Pennsylvania trio are beyond a favourite band, more like a beloved companion, such is their intensity and fragility of their sound and vision, spearheaded by Karen Peris' heartbreaking, breathtaking voice. Those fans include Sufjan Stevens and Sam Beam (Iron & Wine), who have both covered innocence mission songs, and in whose company the trio deserve to be bracketed.
"There's less than a handful of artists on my Bella Union dream list," Simon Raymonde explains. "The Innocence Mission are on there but they've remained an elusive mystery, and believe me, I've tried! I've been a fan as long as I can remember. From the second I heard Karen's voice, I've been smitten. 'Birds Of My Neighborhood' is in my Top Three albums of all time."
1999's Birds Of My Neighborhood kickstarted the innocence mission as we know them today, following three albums as a quartet that drew comparisons to The Sundays and 10,000 Maniacs. But when drummer Steve Brown left, Karen Peris (guitars, piano, pump organ, accordion, voice), husband Don (guitars, drums, voice) and Mike Bitts (upright bass) forged ahead with an orchestral, at times cinematic, folk pop sound which they felt was truer to their real nature in any case, a sound rich in atmosphere, innately sad, but ultimately hopeful. This feeling defines the new album's lead single, "Green Bus", a threnody which marries nylon string guitar, ukulele, and swells of violin to help build the lyric's visual world of green and rainy city streets.
Despite her references to nature, Karen says she often hears "city scenes" in Sun On The Square – part of the record's own air of mystery. Such as the title track, inspired by Astrud Gilberto,'60s folk and pop, and her "admiration for someone going out into the world bravely and in kindness – the possibility for one person to be a light in the world. That love will prevail over fear."
Love and fear, longing and loss, belief and awe – Sun On The Square is an emotional journey, and destined to find new fans for the band while re-establishing contact with those already in the fold. Either way, prepare to have your heart broken and your breath taken. Tears might fall. You have been warned.