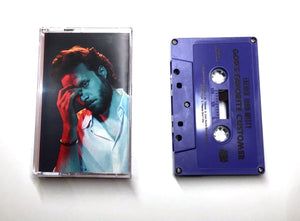 BELLA770CAS
Release Date: 1 June 2018
Signed by artist 
The magnificent ego of Father John Misty makes his music seem really important. The music is not really that important, of course, but when you hear that smooth and gentle soft-rock with his olden croon centered so perfectly on every pitch, it seems like it is, in the way that narcissists or the canon of classic rock seem important. This outsized persona bursting forth from singer-songwriter Josh Tillman is full of self-mythology descended straight from Bob Dylan, dripping with a painted-on significance: His greatest passion is his thoughts. The autofiction of his songwriting imparts its own patina of truth, something that seems unassailable if you subscribe to the man, the voice, the facial hair. He strolls through his own songs like a melancholy king finding every opportunity to catch his reflection.
His ego may keep some folks at arm's length, but it is also precisely what makes his music fascinating. If the maxim is "write what you know," then it is certain that Tillman knows himself a little too well. All this helps build a kind of lore around him, the Misty mythos: He is the former drummer for the sylvan Fleet Foxes, the rogue at house parties, the online satirist, the ham at live shows, the scamp who writes generic pop songs as a lark or as a hired gun, the ingester of mushrooms, the beefer with Ryan Adams, and of course the husband to his wife, Emma, to whom his cosmic romance was detailed with great overture on his 2015 album I Love You, Honeybear. This is only part of the vast Father John Misty universe Tillman has created, with its many footnotes and appendices. His fourth album, God's Favorite Customer, is Tillman trying to destroy it all.
Tillman used to write what he knew; now it's as though he's writing what he's just learned, racing to capture a newborn emotion before it curdles into self-conscious drek. And while God's Favorite Customer tips slightly into self-pity at times, it's a passing feeling on an album that peeks behind the many cynical shields of Josh Tillman. Through the wringer and reborn on the other side, the world he sketches seems brighter now, bigger, and more sensitive to the touch. It brings his songs forward out of the warrens of his head and into the sacred space between listener and writer. He's still writing about himself, but now his songs are interrogations, apologies, and discoveries: On the gorgeous and spacious track called "The Songwriter," he sings slowly to his wife Emma, something incorrigibly selfish and selfless at the same time:
What would it sound like if you were the songwriter
And you made your living off of me?
Would you detail your near constant consternation
With the way my very presence makes your muses up and flee?
That is the crux of Father John Misty, this tension, between believing in himself and believing in others. God's Favorite Customer is ultimately about trust, what you can afford to lose to be fully there for someone else—and just how difficult and terrifying that can be. You wonder, though, whether or not this too will all be folded into part of the Misty universe. The Hotel Album. The One Where He Got Real. Can you really trust someone like this? Retreating to a hotel room to write an album assisted by a cocktail of drugs and heartbreak is not exactly an original rock'n'roll proposition. But even that cliché seems to be part of his desire to forego a too-clever concept. Instead, he basks in something more universal, trying to seek that one marble of truth about love we all process as individuals but possess as a collective. As Brian Wilson once advised: "Hang on to your ego... but I know that you're going to lose the fight." It's a joy to watch Tillman get in the ring for a bit.
- Jeremy D. Larson, Pitchfork