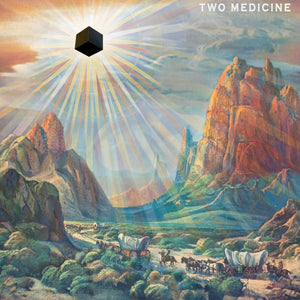 BELLA757CD
Release Date: 2 November 2018
"I'd always wanted Midlake to experiment more with the arrangements, or to get more into psychedelic textures," says Paul Alexander, the bassist from Denton's prog-folk voyagers. Those ambitions are fulfilled on Astropsychosis, Alexander's debut album as Two Medicine, released via Bella Union in November. Richly ambitious in its sonic colour and conceptual reach, Astropsychosis is an album of luminous space and mindful grace, its depths and details coaxed into orbit with the lightness of an artist in his element.
Alexander began facing his future in January 2016, after a year-long break from music following Midlake's tour for 2013's Antiphon. "I wanted to find out if I could write songs and if I could sing them – basically, whether or not I could make an album on my own," he asks. Over 15 months of writing, arranging and recording (in Midlake's old studio in Denton), he got his answer. From the early reference points of Pet Sounds, dream-pop and pre–Dark Side of the Moon-era Pink Floyd, Astropsychosis blossomed into a very modern exploration of sound and psychedelia, bright on top and burning with purpose below.
The journey was not taken alone. Eric Nichelson (now the owner of Midlake's old studio) offered friendship during what Alexander calls a "challenging and sometimes gruelling period"; he also contributed electric guitar to two songs. Jesse Chandler (Midlake/Mercury Rev) brought flute and bass clarinet to two cuts; Evan Jacobs added keys to one song; Matt Pence played drums.
As for tomorrow, what then? Two Medicine will tour as a duo, vocalist Aimee Adams making up the numbers. Meanwhile, Astropsychosis awaits, its hidden depths accumulating from its title downward. "I'm afraid I will have to leave the listener to interpret the album title," says Paul. Time spent unfolding its enigmas is, we'd argue, time well spent.