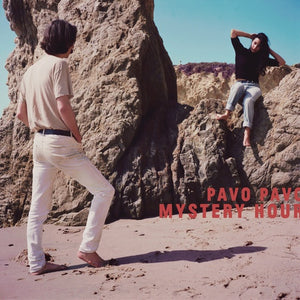 BELLA727CD
Release Date: 25 January 2019
Channelling the narrative drama of Oliver and Eliza's changing relationship, Mystery Hour is an uncategorizable record that's both maximal and compact, a fever dream filled with cinematic imagery and rooted in acute emotion, written as the two were separating after a six-year relationship. 
The album began as a means to process Oliver and Eliza's breakup and became a feedback loop, influencing the alchemy of their separation process and informing their new roles in each other's lives. Recurring sounds and instruments act out the shifting storylines of these characters across the album: Oliver's pitch-shifted vocals and high melodic synths are a distorted, imperfect replacement for Eliza's floating soprano voice, and cascading strings are an intentional soundtrack for romantic melodrama.
The tone is set by the album's title track and lead single, a tightly built pop song driven by orchestra and choir into a celestial fadeout: I realize love is to see every side of you / but mon cheri I'm designed to be unsatisfied.  
At the heart of the music is the openness with which the duo continues to sing together, revealing their unshakeable friendship. The record is a meditation on relationships from different angles: "Goldenrod" ends the album with a duet about loss, the expressiveness of the two voices garbled to make them sound uncanny, almost inhuman. "Close to Your Ego," (Hold me close to your ego / and I'll hold you close to mine) is more oblique, about the difficulty of reconciling intimacy with sense of self. 
The album draws thematic inspiration from a wide range of media: Ingmar Bergman's Persona to choreographer Pina Bausch, painter David Hockney, and multi-media artist Alex da Corte. Photographer Natalie O'Moore's album cover depicts Eliza and Oliver in turbulent conversation at the beach, resembling a film still to mirror the album's narrative drama.
"The beach is an image that keeps coming back to us – the edge of the world, with the possibility of exiting it," Oliver says. "The idea for this cover is that it builds on the Young Narrator cover, with two figures casting long shadows on the beach. That cover was a collage and this is a photograph, the hi-res, come-to-life version."