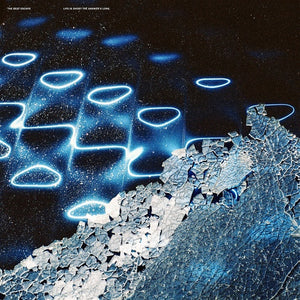 BELLA721V
Release Date: 27 April 2018
Long before they were a band, Montreal duo The Beat Escape took a small first step towards a longer journey at a university video class. "We made a short oddball work; a video piece that followed two characters through a psychedelic waking dream," say Beat escapists Addy Weitzman and Patrick A Boivin of their founding collaboration. Many other projects and outside collaborations later, the duo have crafted a debut album their younger selves would be proud of: the sublimely immersive Life Is Short the Answer's Long plays like a waking dream of near-psychedelic electronic pop, moving to its own beat in the push-pull of forward motion and submerged reflection.
That sense of propulsion ushers opener "Sign of Age" into rising view, its sparse drums, hypnotic sequence and melancholic chords resembling house music as reimagined by Angelo Badalamenti. The enveloping mood holds as "Moon in Aquarius" unfurls like a night-time road ahead, ghosted by narcotic harmonies. "Limestone Alps" lingers meditatively, hymnal vocals reverberating; "Where Water Ends" and "More Dreams", meanwhile, navigate the porous boundary-lines between krautrock, Factory Records and obscure minimal wave records of the 80s.
If this is pop music, it's pop that maps a singular route through electronic territory. "We're drawn to the type of songs that were almost hits but there's something slightly off about them, so they were never discovered" explain the duo. "Then I Drift Away" fulfils that intent, evoking a kind of dislocated psychedelia via Screamedelica; ditto "Seeing Is Forgetting", where warm synth chords, a buoyant bass melody and deep vocal chorales merge hypnotically. "Thousand Pound Shoes" pauses for reflection before "Nemo Propheta"s pellucid synths and insistent beats evoke a sense of surfacing, closing the album on a note of glinting release.
For The Beat Escape, Life… marks a rapturous new beginning after their work in visual arts (Boivin) and synth-pop duo Footprintz (Weitzman). Building on their experience DJ-ing together in a Montreal bar, the duo gained momentum when Bella Union's Simon Raymonde heard "Seeing Is Forgetting". Duly signed, Weitzman and Boivin wrote and recorded the album in their studio above said Montreal bar and at a country house in the Laurentians. It was mixed by Finland house DJ/producer Jori Hulkkonen, who, the duo say, helped realise its "driving, expansive and painterly sound".
As for the lyrics, they mostly explore The Love Song, though the duo invite you to linger over their mysteries: "We both enjoy the process of uncovering, whereby meaning develops and reveals itself over time." And time spent following The Beat Escape through their waking dream-world is, we'd wager, time well spent.