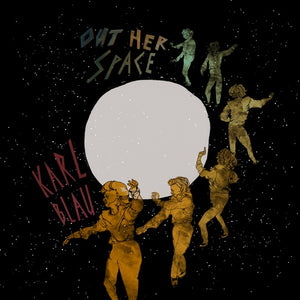 BELLA684CD
Release Date: 17 November 2017
Sequestered away in rural bliss, 90 minutes north of Seattle on the Washington state coast, Karl Blau has been making records for 20 years, but never with European distribution. So, when Bella Union released Introducing Karl Blau  in 2016, it shone a belated and deserved light on "one of the great hidden treasures of music," claimed album producer Tucker Martine. But given Introducing's specific agenda – a set of gorgeous, lush cover versions drawing mostly on vintage Nashville's country-soul with Blau concentrating on his rich, reverberating voice, his latest album Out Her Space is so different that it could be titled Reintroducing Karl Blau.
Out Her Space features all Blau's own material, production and multi-instrumental skills, and forges a gorgeous, languid and hook-infested gumbo of soul, funk, some jazzy blowing and Afro-pop, to arrive somewhere else entirely. The album plays with humanitarian themes, against a backdrop of self-immolating American politics. For starters, the title Out Her Space was equally inspired by Blau's, "overwhelming feeling to point out that men, in general, need to listen, to stop being so assertive and to get out of her space, let her balance again. Chill out dudes, rather than lead us over the cliff."
The world is out of control, but Blau's life is anything but. Introducing Karl Blau did its job, as a great record and an introduction to a wider audience. Given Matthew E. White was voted a 'breakout artist' of 2012/13, then Blau, on this evidence, is unquestionably a 'breakout artist' of 2017/18. If Out Her Space has finally found the right time to emerge, so too has its creator.