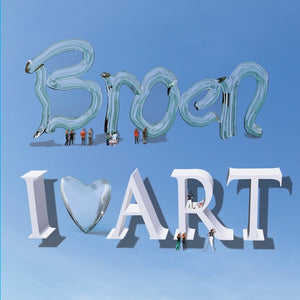 BELLA646CD
Release Date: 20 October 2017
They may share a name and home country with one of Nordic TV's darkest detective dramas, but you won't find any dismembered bodies or nihilistic feelings on Broen's I <3 Art, released through Bella Union on 20th October. Bursting with experi-pop exuberance and driven by a spirit of warm commonality, the five-piece's debut album exults in the pleasures of intelligent music; its deep rhythms, dreamy melodies and dazzling sounds building bridges between bustles of jazzy percussion, psychedelic flourishes, funk grooves, mellifluous electronics and hip-hop beats. And if Norwegian-noir clichés and all other generic conventions are playfully bucked on its brightly exploratory way, such is Broen's mission. 
As the band's Anja Lauvdal (synths) puts it: "Our very cool Norwegian philosopher Arne Næss said that the more negative feelings/things that happen in society often get mistaken to be more intelligent or more important than the happy ones, which is sad! The ability to be happy, and find your own kind of happiness, is awesome, and music can play a big part in that."
 These aims are vibrantly fulfilled on I <3 Art, which opens with the sound of water running, climaxes with a song called 'Water Is My Mirror', and lets its heart and art flow freely in between. Among brushed drums and electro-jazz reverberations, the playfully treated vocals of 'Waters Changing' extend a hypnotic, sing-song invitation to Broen's world. 'Time' showcases the band's smart-pop instincts, its funk groove, luminous synths, reflective vocals and buoyant melody resembling an alt-universe summit meeting between Trevor Horn and Tim Gane. 'Black Line', meanwhile, reflects the scattered mindset of the touring band in its improvised melees of tuba, synth and insistent guitar.
Recorded in Oslo's Studio Paradiso, engineered by Jaga Jazzist's Marcus Forsgren, and mixed by the band with Nick Terry, I <3 Art bursts with invigorating life. As Hans puts it, "It's both soft and hard. Beautiful and ugly or corny. Adventurous and experimental but still groovy. It's honest and ironic. It has a lot of good energy. It was recorded live in the studio and it was a very joyful and positive experience. I think that shines through in the music, at least for us."