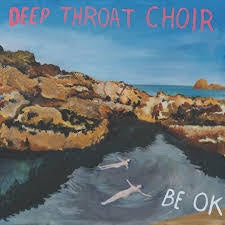 BELLA613V
Release Date: 17 February 2017
Deep Throat Choir is an all-female singing collective formed in 2013 by Luisa Gerstein. Having played in the bands Landshapes and Totally Enormous Extinct Dinosaurs, the project was driven by the simple desire to bring music making back to a few basic elements: just voices and drums. Not for the love of choirs per se, but for the love of raw female voices thrown together, of the interplay of intricate vocal melodies and harmonies; Luisa wanted to sing and arrange the music she loved, and to hear it stripped and bolstered in that specific way that lots of voices can do. A melody sung by one voice is so different to a melody sung by many, and the same goes for words; the sentiment is altogether transformed when carried by a collective as opposed to an individual. This is exemplified perfectly in the line "show me emotional respect" from the choir's arrangement of Bjork's Stonemilker.  It is not just one woman's plea, but an anthem for all.     
Their debut album, "Be Ok", is the culmination of the material they have been performing over the past three years. The album's title track is one of three original Deep Throat Choir compositions, amongst arrangements of existing songs by such artists as Electrelane, Wildbirds and Peacedrums, MK, and Amy Winehouse. Working closely with Dan Blackett (Landshapes) and David Holmes at Soup Studios, the choir have made sure the record stays true to their live energy, whilst incorporating other instrumentation carefully and sparingly across the tracks.
"Be Ok" describes the experience of singing in a group, of raising voices together to make something beautiful and strong, and of the community and support that exists around the choir.  There's an energy that permeates through everything, fostered by the closeness of its members and the powerful feeling that comes with singing together: "I'll be OK, mirror me, mirror me. I'll be OK if you carry me, it carries me". The ritual of gathering this way each week in a church in east London, is still at the heart of what they do.