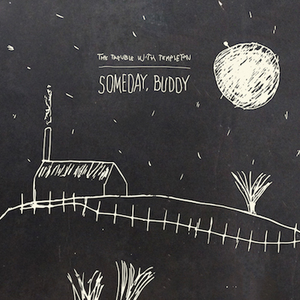 BELLA574V
Release date: 2 December 2016
After the indie-folk restraint of Calder's 2011 solo mini-album Bleeders, TTWT served evidence of tremendous range and ambition on their debut album as a band, 2014's 'Rookie'. Someday, Buddy goes a step further, harnessing that reach to a leaner, tighter take on TWTT's melodic alt-rock punch. As Calder puts it, "We made a conscious decision to challenge ourselves to focus on minimal instrumentation and production in the recording process in an effort to place more emphasis on the song-writing."
The full-bodied songs here can take the emphasis, no trouble. TTWT weren't slouching on Rookie, where Calder and company wedded vibrant melodies and multifarious alt-rock flavours – epic, jangly, glam – to a core of emotive cogency. But on Someday, Buddy, their personality emerges sharper and clearer. "Our goal was to make a record that is raw, bare and honest," says Calder, a claim borne out by the incisive lyrics of the swelling "Sailor" and lilting "Heavy Trouble", where Calder's falsetto dances over a tender indie-folk backdrop.
Sometimes fragile, sometimes forceful, Calder's voice remains a marvel on lead track "Bad Mistake", a combination of intricate verses and a huge chorus pitched somewhere between Pavement and Elliott Smith. And so the album goes, its recipe one of slow-burn songs harbouring great reserves of potency: the discreet neo-glam swagger of "Complex Lips", the sunburst chorus of "Vernon", the gorgeous ripples of album highlight "1832".
For TTWT, the album is the culmination of time spent refining the band's qualities following extensive touring for Rookie. After taking time out to recharge their batteries, Calder, Ritchie Daniell (drums) and Sam Pankhurst (bass) recorded as a trio with help from their friend Matt Redlich; later, they were joined by another buddy, guitarist Jack Richardson. As a result, says Calder, the band's bonds are "stronger than ever". By the time Someday, Buddy fades out with the understated confidence and poised beauty of "Sturdy Boy", you won't doubt it.