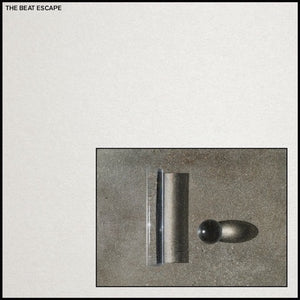 BELLA571V
Release Date: 21 October 2016
Read below some words from the duo on the process and timeline of making their brilliant debut single "Seeing Is Forgetting":
8:36 in the morning. Three kilometers from Exit 68 off of the 15 North in the Laurentiens. The air is cold, the sky is overcast and their minds are clear. The radio plays exotica music. The first waves of sunlight pierce through the trees and glance off the windshield. They don't speak. They sit, they think, and drive. Seated.
Their studio is next to a lake, surrounded by evergreens. Analog machines sit silently by the landscape, awaiting for their arrival. At 9:00, they're closer. At 9:05, they arrive.
The Beat Escape walk into the studio and immediately begin to work. They turn on a drum machine and compose a beat – it's familiar, yet entirely original. A chord progression fills the room, one that's been on their minds for nearly six months. It happens to sit nicely on the beat, and for this, they are thankful. Walking through old memories, dreams, sequences and altered states of perception, a melody is caught and harmonies are sung. By them.
All around the world, the day continues. The song evolves. The dream is alive. For everyone.
At 9:26 they make a Mai Tai. Two parts rum, half part cointreau, quarter part lime juice, a splash of pineapple juice and a dash of grenadine, garnished with lime, mint and two straws. An unusual drink for The Beat Escape, but they hope it will inspire the session. It occurs to both of them to mention dinner, but neither says a word. So, they make more drinks. Ninety minutes well spent.
At 11:09, the song is complete.
Another reward is due, and their thoughts turn to supper. A riddle-like puzzle. The meal must be inspiring, but not too good. The best of all possible meals would contradict the evening's true purpose, one that extends well beyond the realm of eating. The food, however, must be good enough to sustain a positive environment amid the always-fragile mood of young creatives. They are, after all, hanging out, and enjoyment is crucial to the energy of their workflow.  But too much enjoyment attunes them to wrong frequencies – escape is not everything. This balance is often at the core of their nature. And balance is the essence of The Beat Escape journey. Yin & Yang. Dinner & drinks. Energy & workflow. Adam & Patrick (the members of The Beat Escape, an electronic duo from Montreal). 
Now, back to dinner:
Workflow Chicken:
(serves two band members)
– 4 organic chicken thighs 
– juice of 1 lemon
– 1 tsp of lemon zest
– salt to taste
– pepper to taste
– 2 cloves of garlic