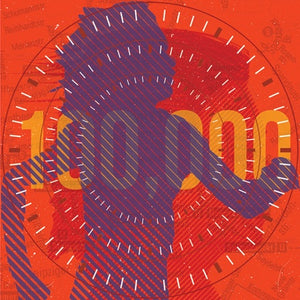 BELLA569V
Release Date: 20 August 1998
A heart pounding mobius strip of cause and effect, Run Lola Run / Lola Rennt follows Lola (Franke Potente) on a quest through Berlin to find 100,000 Deutsche Marks in under 20 minutes to save the life of her boyfriend Manni (Moritz Bleibtreu). The film unfolds virtually in real time, presenting three variations of Lola's seemingly impossible task.
Writer-director Tom Tykwer's multidimensional narrative and breakbeat soaked score encapsulate the creative energy of late 90's Berlin perfectly, rendering this an international cult hit upon release. The film contains all the makings of a classic heist – diamonds, a lost bag of money on a train, the mobster it belongs to, and the lengths one woman will go to rectify the situation in the name of true love – albeit with a post-modern twist.
Lola Rennt's cinematic adrenaline rush is matched only by the accompanying soundtrack, which until now was never pressed to vinyl. The film score was helmed by Tykwer, Johnny Klimek and Reinhold Heil, combining their love of German New Wave, classical and techno (and taking the role of auteur to new heights). The result is a sonic journey into split second decisions and sheer determination; an iconic audio counterpart inextricably intertwined with the film that still resonates to this day.
Dance floor anthems "Believe"and "Running Two"feature the film's lead Franke Potente on vocals, who then teams up with Thomas D (of seminal German hip-hop act Die Fantastischen Vier) on "Wish (Komm zu mir)". The album also includes the intoxicating Ambient Trance of "Casino"along side the Super Clemek Progressive remix of "Supermarket."Touches of Detroit Techno and Drum'n'Bass are included in the mix, rendering this a must-have for any fan of electronic music.