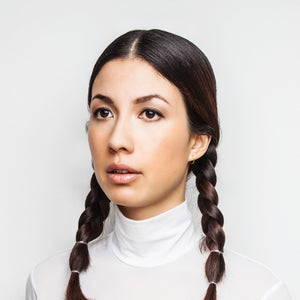 BELLA530CD
Release Date: 26 February 2016
 On March 11th 2016, Emmy The Great released her highly anticipated third album Second Love on Bella Union. There is a distinct nod to her debut First Love, in terms of the storytelling that first impressed her lyrical and emotional dexterity upon so many. But on Second Love, Emma-Lee Moss delves into the chambers of a human heart ever-connected to the glare of a nearby screen. This is an album imbued with modern sounds, a nod to new eras, while maintaining the human warmth always associated with an ETG album. The songs are full of emotion and questioning, with the chatter of friends and collaborators 'coded' into the sonic landscape.
"For a long time, I thought the album would be about technology and the future, so I wrote a lot of songs 'about' stuff – like 'Swimming Pool' or 'Solar Panels' or about the magazines in 'Hyperlink'," says Emma. "But this didn't feel right. It was only when I started using these things to write about love that everything came together."
Despite recording in tiny snatches, burrowing herself away in friend's bedrooms, borrowed studios and hotel rooms – "If I had to write down the locations of every recording session the credits would have around 30 people's houses in it", says Emma – Second Love remains a resolute whole, a delicate balance of songs and sounds that mirror the personal discoveries she made while making the album.