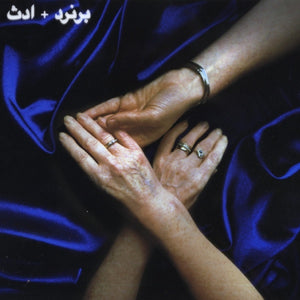 BELLA472V
Release Date: 11 May 2015
Fellow Manchester-based artist Jamie Lee of the band MONEY has penned the below idiosyncratic bio-cum-tribute to Bernard + Edith: 
"Perhaps Bernard and Edith would think that what I'm about to say is going too far. But I remember drinking with vocalist Edith in a bar in Manchester and talking about how her and Bernard come to creating their songs. Edith observed: "Rather than say 'let's go out' or 'let's watch TV' I say, 'should we make a cheeky song?' And he says 'Alright then'." And that laughter I've come to know so well erupts from her maniacally, childishly, freely.
Edith's singing style reminds me of the kind of emancipatory freedom of the modern American school of writing. Her melodies are uninhibited by traditional rules of structure – she moves where and when she feels the impulse to; and knowing the woman behind the voice I see that the impulse in her can be as chaotic as it is beguiling. She is like a bouquet balanced precariously on the edge of a table unsure of whether it will fall and break – hinged between extreme goodness and feeling on the one hand and on the other, chaos and perhaps even madness. Lyrically, again, the comparison is relevant: "cos poppy says she loves me and I'm feeling right" is as naked, unpretentious and brave as the revolutionary poet Robert Lowell's assertion; "why not say what happened?" that triggered his confessional movement producing and influencing writers from Sylvia Plath to Anne Sexton – a place where the uncompromisingly personal and high-art met in the middle. This applies to Bernard and Edith too. A place explored by Daniel Johnston and Arthur Russell – it is the artful balance between a highly private expression and having the skill and intelligence to communicate that to the world. It is testing the limits of what a person can say within their art but  also lends a universality to their language and style. Having mentioned these artists, there is clearly a strongly cathartic drive to why Bernard and Edith even exist at all – it is art being made for the right reasons – for the love of it! It is esoteric but never indulgent, original but not reactionary or avant-garde, otherworldly but unpretentious.
It is my belief that whatever art is, it is the direct opposite of whatever money is. It is made by the maker to save oneself briefly from the inevitable and in doing so (where the craft comes in) may end up saving other people briefly too. Bernard + Edith make their music from home and (I cannot help but feel) predominantly for each other – a kind of covenant to their particular and special bond."