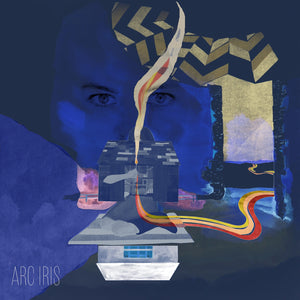 BELLA445V
Release Date: March 2014
Arc Iris broke musical ground with the release of their acclaimed self-titled debut in 2014. The Providence, Rhode Island-based band quickly won over audiences in the US and Europe, supporting artists such as St. Vincent, Jeff Tweedy, and Clap Your Hands Say Yeah. The group performed at the London Palladium and festivals including Bonnaroo, End of the Road and the Rolling Stone Weekender.
Released on Bella Union in Europe and ANTI Records in the US and, the band's self-titled debut album drew admiration for its innovative style and distinctive sound. "It's hypnotic," said the Boston Globe. The New York Times wrote of "songs that seesawed between the elfin delicacy of Joanna Newsom and some brassy raucousness." The Guardian talked of "a shape-shifting treat" while new music site The Line of Best Fit proclaimed, "Arc Iris is traditional music thrillingly positioned at the nexus of the old and new."
Lead singer and lyricist Jocie Adams, Tenorio-Miller, and drummer Ray Belli form the core of Arc Iris, all virtuosic musicians in their own right. Adams spent eight years as a key member of indie darlings The Low Anthem, effortlessly zipping from hammer dulcimer to clarinet to bass to vocals, sometimes barely pausing to take a breath. Her 2011 solo debut, Bed of Notions, sparked a musical beginning that became Arc Iris. Joining Adams on Bed of Notions was cellist Robin Ryczek, a conservatory-trained musician who toured with Jethro Tull and founded a rock school in Afghanistan.
To help launch Arc Iris in 2012, Adams teamed with Ryczek and the musically agile Tenorio-Miller, an established indie-rock keyboardist for well-known talents from Gene Ween to the New Pornographers' A.C Newman. Later that year Tenorio-Miller brought in his longtime friend Belli. The two toured with Jon Anderson of Yes when they were just 16.
Arc Iris have attracted numerous fans around the world as the group's stage performances become storied events themselves. Space domes reveal giant golden wings in flight while montages light up the backdrop with evocative images. Above all, the group's love of music is a shared passion that comes alive with each song. As diverse as their musical interests and influences have been, the band members find avenues for producing a blend of soul-satisfying sounds that are truly their own.