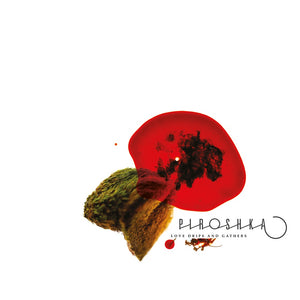 BELLA1219CD
Release Date: 23 July 2021
"If Brickbat was our Britpop album, then Love Drips And Gathers is shoegaze!" reckons vocalist/guitarist Miki Berenyi, formerly of Lush, a band that effortlessly bridged the two genres like no other. "It wasn't intentional; we just wanted a different focus. I've always seen debut albums as capturing a band's first moments, when you really have momentum, and then the second album is the chance for a more thoughtful approach." Bassist Mick Conroy (Modern English) agrees. "Brickbat was a classic first album; noisy and raucous. On Love Drips And Gathers, we've calmed down and explored sounds, and space."
Love Drips And Gathers – named after a line in a Dylan Thomas poem – was inspired by love, family, belonging, memory. Miki and Moose split the eight lyrics, with some poignant overlaps here too. Miki's 'Loveable' looks to Moose; Moose's 'The Knife-Thrower's Daughter' looks to Miki, but also their daughter Stella and his sister Anna; an empathic, touching embrace of the women in his life.
Staying within the family, Moose eulogises his late mother (the idyllic childhood seaside trip of 'Hastings 1973') and father (the more conflicted 'Scratching At The Lid'). On 'V.O.', Miki pays fond tribute to Vaughan Oliver, 4AD's legendary in-house art director who died suddenly in December 2019, and who had a particularly close relationship with Lush during their time on the label (like Brickbat, Love Drips And Gathers' beautiful and enigmatic artwork is by Vaughan's former design partner Chris Bigg).
Love Drips And Gathers' nine tracks will each have its own video (all to be made by Connor Kingsley), with a continuing thread that will eventually create one story. Piroshka's own story is rooted in family – both those you're born with, and those (friends) you choose.