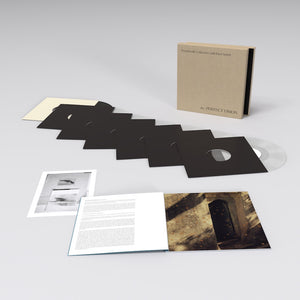 BELLA1364V
25/11/2022
7LP Set includes The Peyote Dance, Mummer Love, Peradam and a 7 track album of reworkings from an array of artists, including Jim Jarmusch, Brian Eno, Kaitlyn Aurelia Smith & Laaraji.
Pressed on 140g Clear Vinyl
74 page perfect bound booklet with soft cover.
Includes conversations between Patti and Stephan,
exclusiv photos and more.
A4 Print | Signed by Patti Smith
All housed in a beautiful cloth wrapped 2-piece box
Limited to 500 Copies
Soundwalk Collective with Patti Smith have announced news of a special deluxe box set release of The Perfect Vision, the triptych of acclaimed albums that encompasses The Peyote Dance, Mummer Love and Peradam. The box set, which includes a remix album featuring contributions from Brian Eno, Jim Jarmusch, Laraaji and more, will be released 25th November via Bella Union...
Between 2019 and 2021, Soundwalk Collective and Patti Smith collaborated on the creation of The Perfect Vision: a triptych of albums which took their inspiration from the writings of three emblematic French poets: Antonin Artaud, Arthur Rimbaud and René Daumal. Central to the work was the poets' necessity to travel to different lands to acquire a new vision and perspective on themselves and their art. Recorded in the Sierra Tarahumara of Mexico (The Peyote Dance), the Abyssinian valley of Ethiopia (Mummer Love), and the Himalayan Summit of India (Peradam) respectively, each album retraces the poets' footsteps, channelled through on-location recorded soundscapes, in search of hidden, earthy sounds that hold embedded existence, with Patti Smith revisiting the poets' words that have been inspired by the landscapes. The result is a sound and visual montage that traverses the works of Rimbaud, Artaud and Daumal in their voyage to elsewhere.
Now, the three albums of The Perfect Vision will be released as a deluxe box set that includes a special 7-track remix album featuring a stellar cast of contributors that includes the likes of Brian Eno, Jim Jarmusch, Laraaji and more. The box set also includes a book which features an interview with Patti Smith and Stephan Crasneanscki of Soundwalk Collective along with photos and drawings. Also included is a A4 print signed by Patti.
Stimulated by these metaphysical journeys, the musical and sound composition of The Perfect Vision is the starting point for a new site-specific and multidisciplinary exhibition – "Evidence" - that Soundwalk Collective and Patti Smith have conceived for the Pompidou Centre. Evidence is a poetic and immersive quest, an ode to a world without borders, a contemporary reflection on the infinite and the universal, a spiritual quest for oneness as a living and life-giving presence. The physical, sound and visual journeys of Soundwalk Collective enter into a conversation with the poetic trajectories of Patti Smith, to create a new vision and language. The exhibition space presents sound, film, abstract imagery, objects and found art collected from their travels, leading the visitor towards a large investigative installation that juxtaposes photography, text and original artwork by Patti Smith, from both her personal collections as well as those of Musée national d'art moderne and MoMA, as an evidence of the existence of these poets and their inspiration, offering a true immersion in their thought and art.