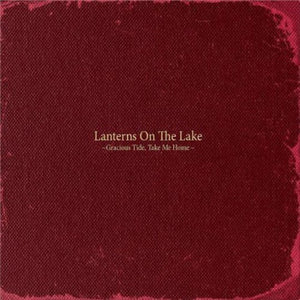 BELLAV300
Release Date: 12 June 2021
Signed by the band
2x 140g Black Vinyl
Gatefold Sleeve with Gold Foil Print
Remastered at Abbey Road Studios
Includes 5 additional songs
Includes DL Code
Fusing the most fragile and graceful end of the folk music spectrum to the most luminous properties of cinemascope rock, Gracious Tide, Take Me Home used a smorgasbord of instruments to paint a variety of beautiful vistas, from the ambient 'Ships In The Rain' to the galloping 'A Kingdom', from the six-minute layers of 'The Places We Call Home' to the skeletal 73-second finale 'Not Going Back To The Harbour'. There's always been a compelling drama to Lanterns On The Lake; the way the opening track 'Lungs Quicken' shifts from dreamy restraint to a full-blown crescendo indicated the true power at their fingertips.
Lanterns On The Lake formed in 2008 combining a group of friends who had all played in various bands on the local music scene. Hazel Wilde (vocals, guitar), Paul Gregory (guitars, backing vocals, electronics) and Ol Ketteringham (drums, piano) still comprise the core of the band whilst previous members Adam Sykes (vocals, guitar), Brendan Sykes (bass) and Sarah Kemp (violin) departed prior to the second album.
Hazel commented at the time that: "A lot of lyrics were inspired by my moving back to the coast (North Shields), where I grew up, after I'd been living near the city centre. They're also memories of growing up here, the feeling of homesickness, and stories of people around us and of the sea. The title Gracious Tide, Take Me Home seemed to sum up all the themes."
There might be a vein of sadness through this music – 'Ships In The Rain' was inspired by a local fisherman who went missing at sea, and 'A Kingdom' was inspired by the book letters sent home by WW2 soldiers – but there is just as much hope in 'Keep on Trying'  and 'You're Almost There', where fear and insecurities are banished by self-belief; "the feeling that you're going places," as Hazel says. Mirroring the sentiment of the album title, 'I Love You, Sleepyhead' and 'Places We Call Home' draw on the comfort and security of home, friendship and memory.