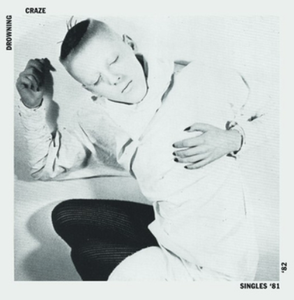 BELLA726V
Release Date: 8 June 2018
Limited edition white vinyl LP. Includes 16 page booklet and download code with bonus tracks.
The history of post-punk is full of curious footnotes and sudden dead-ends. Fascinating bands that flared up, intoxicated with the rush of ideas and sense of creative freedom in that fertile period where there were no rules and boundaries to creativity for groups, leaving a vapour trail of a handful of singles and inevitable John Peel sessions before disappearing back into the ether.
The Drowning Craze are typical of those bands. Their legacy is three singles and a John Peel session, a glimmer of possibility and a hint of something quite wonderful, and then gone. These recordings have now been gathered together as "Singles 81 – '82". "Storage Case", the band's incendiary debut single and the album's opening track, can be heard below…
In the myriad of open ends that came out of the big bang of punk rock, a darker, more melancholic, bass-driven soundscape soon emerged and The Drowning Craze, with their chorused bass lines and flanged, shattered guitars very much created their own corner of this world.
The band were very much of that Situation 2 brave new world of music, playing supports to the aforementioned and groundbreaking Bauhaus, the huge-in-America Modern English and also the cataclysmic The Birthday Party at their incendiary London shows, with The Drowning Craze getting the live review in the music press and the Australian infidels not even being mentioned. (How things can change!)
The band's debut single "Storage Case" was released on Situation 2 in June of 1981 and was a glacial, perfect, blissful, post punk, dark wonk work–out with a busy hypnotic chorus bass line and, what we would call at the time a 'shattered glass' guitar. It was their only release to feature the wonderful voice of New York singer Angela Jaeger who was in London studying music and theatre (and would eventually join Pigbag) and was made Single of the Week in the NME and Sounds. Inevitably the band fell victim to artistic difference, like any good band should, and the guitar player ran off and got a proper job as an accountant.
Bands like the Drowning Craze leave endless 'what ifs'. We know they had their own paths to follow but an album or two would have tied up a lot of potential. And yet, the fascinating loose ends that are hinted at in these raw and thrilling early explorations stand the test of time and leave a surprisingly composite whole that captures an emotional flickering shadow that still sound fresh and intriguing…